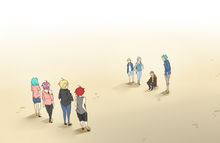 The Turf Wars is a combat tournament held between schools to test which schools have the strongest students, a perfect sport for the violent world of unORDINARY. The name also implies that it entails winning or claiming territory from other schools. But other than that, not one knows why they do it.
Description
In a Turf War, two schools send their strongest students to meet in a remote location to battle. Exactly why a Turf War is fought is unknown but it may be a competitive school sport or a way to win territory.
Types of Battles
Rules
Victory in a Turf War is achieved by winning the most battles. A battle can be won by either defeating the opponent or have the opponent's team concede the battle. Within the battlefields, combatants can do whatever they please to defeat their opponents. Remaining team members usually observe the battle and can concede on their combatant's behalf when the injuries sustained become too serious.
Teams
Participants of the Turf Wars have titles that are based off of playing cards with the exception of the Healer. A person's title also reflects their status in their respective school. Another term used to refer to the team of a school is that particular school's Royals.
Roles
Unofficial roles
Schools
Outside of Battle
During regular school days, students on the Turf War roster seem to receive special privileges. For example, Royals in Wellston High are allowed on the school roof. Arlo, the King of Wellston, seems to be somewhat like a literal King.
Trivia
References
2. Chapter 14
3. Chapter 15
4. Chapter 16
5. Chapter 17
Community content is available under
CC-BY-SA
unless otherwise noted.