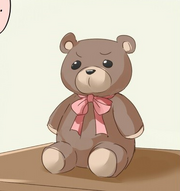 A Teddy Bear is a stuffed toy made in the image of a bear.[1] In UnOrdinary, teddy bears have been given out by the Ability Gauge Vendor at Kovoro Mall to multiple characters.
Appearance
Edit
The teddy bear is a typical brown teddy bear with a pink bow around its neck and lines above its eyes that serve as eyebrows.
The teddy bear is a prize from the Ability Gauge Vendor for any high-tier and was given to Seraphina for her exceptional power level.[2] After the duo left Kovoro Mall, the bear remained in Seraphina's shopping bag. John suggested that the should be named bear after him, but Seraphina refused.[3]
The bear was later seen with a sleeping Seraphina.[4]
The first thing Seraphina did after returning to her dormitory was place her bear on her dresser; it has remained there since until Remi visited her.[5]
When Remi came to thank Seraphina for replacing her during the Turf Wars against Agwin, she noticed that Seraphina's bear contained a strange electrical circuit. When Remi opened it up, she found a tracking device within the bear.[6]
A teddy bear was given to Remi by the Ability Gauge Vendor. Like its predecessor, it also had a tracking device that was ripped out by Remi.[7]
As shown in the security clip, a mysterious figure was shown sneaking multiple Teddy Bears into the booth.[8]
Features
Edit
The teddy bears, and possibly all other prizes from the Ability Gauge Vendor, are tracking devices in disguise. As a tracking device, the teddy is capable of relaying its exact location to its organization. The tracking device is undetectable save for a select few who can detect electrical currents.
It also has some level of (comical) emotion.
References
Edit